Andy Hardy's Double Life (1942)
The thirteenth film in a hugely popular series, Andy Hardy's Double Life didn't veer from its successful proven formula: Andy finds himself in a jam with one girl too many, cooks up a wacky scheme to bail himself out of his ever-present financial dilemma, and goes to his wise, kindly father, Judge Hardy, for advice. The original Hardy family cast was back, as was Ann Rutherford as Andy's long-suffering sweetheart, Polly. The setting was, of course, the perfect middle-America town of Carvel, where such nuisances as war, depression, and racial strife rarely intruded on daily life. But after five years, and with a world war raging, it was obviously time for the hapless kid to grow up, and this edition finds Andy preparing to go off to college.  Andy Hardy's Double Life introduced another new face in what would become a familiar on-screen environment for her. Swimming champ Esther Williams was cast as one of Andy's love interests and given the obligatory swimming pool scene. Although reviewers noted she was a bit tall for Rooney and not much of an actress, she looked great in a bathing suit. MGM took note; within two years, Williams was starring in her own aquatic film extravaganzas, a series that proved equally popular with audiences of the 1940s. (Thanks to Rob Nixon, TCM)
Cast: Mickey Rooney (Andy Hardy), Lewis Stone (Judge Hardy), Cecilia Parker (Marian Hardy), Fay Holden (Mrs. Emily Hardy), Ann Rutherford (Polly Benedict), Esther Williams (Sheila Brooks)
A Guy Named Joe (1943)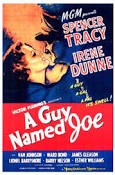 "In the American Air Forces, anybody who's a right chap is a guy named Joe," explains an admiring young boy at the beginning of A Guy Named Joe, a World War II romantic fantasy. Spencer Tracy stars as devil-may-care fighter pilot Pete Sandidge who dies and comes back to earth as a guardian angel for novice flyer Ted Randall (Van Johnson). Things get complicated when the young pilot on earth falls for Pete's girl Dorinda (Irene Dunne), teaching all three about love, friendship and letting go. The movie briefly features Esther Williams in one of her first movie roles before she became MGM's first musical swimming star. (Thanks to Andrea Foshee, TCM)
Principal Cast: Spencer Tracy (Pete Sandidge), Irene Dunne (Dorinda Durston), Van Johnson (Ted Randall), Ward Bond (Al Yackey), James Gleason (Lt. Col. W.D. 'Nails' Kilpatrick), Esther Williams (Ellen Bright).
Bathing Beauty (1944)
America's mermaid Esther Williams made her big splash on the cinematic scene with Bathing Beauty, opposite comedian Red Skelton. Combining an escapist plot, lively tunes and, of course, extravagant water sequences, the aqua musical cleaned up at the box office and made Williams a fan favorite. Originally a vehicle for Skelton called Mr. Co-ed, Bathing Beauty was tailored to promote Williams and her unique water talents. She plays a swimming teacher at an all-girls' school, where Skelton's enamored songwriter enrolls to be near his lady love. But the plot takes a back seat to the dazzling underwater dance numbers and the memorable water spectacle conclusion. Surrounded by a flood of water maidens, Williams glides through a pool with fountains gushing high and torches of fire burning to a glorious Technicolor end. The sequence was produced by John Murray Anderson, the choreographer for the famous Billy Rose Aquacade in San Francisco where Williams had once worked.  (Thanks to Amy Cox, TCM)
Cast: Red Skelton (Steve Elliot), Esther Williams (Caroline Brooks), Basil Rathbone (George Adams), Bill Goodwin (Professor Willi Evans), Jean Porter (Jean Allenwood), Nana Bryant (Dean Clinton).
Thrill of a Romance (1945)
Esther Williams finds romance on her honeymoon in Thrill of a Romance – but not with the man she expected. Williams plays a newlywed swimming instructor whose husband is called away from their honeymoon on business. Also vacationing at the same mountain resort is soldier-on-leave Van Johnson. Williams and Johnson do a little swimming and soon find themselves with a problem – they've fallen in love. Thrill of a Romance was the second of five movies Williams and Johnson made together. They first appeared together in the wartime romance A Guy Named Joe (1943). The success of their musical pairing in Thrill of a Romance led to three more song-filled movies — Easy to Wed (1946), Easy to Love (1953) and Duchess of Idaho (1950). Williams and Johnson find themselves surrounded by some impressive musical talent in Thrill of a Romance. Opera star Lauritz Melchior makes his presence known as soon as the credits roll. He opens Thrill of a Romance singing in close up over his billing as "The Metropolitan Opera Star." In this, his first film role, Melchior is cast as an opera star on a diet who plays cupid for Williams and Johnson. As Melchior's screen credit fades, the movie segues into the music of popular bandleader Tommy Dorsey and his orchestra. (Thanks to  Stephanie Thames, TCM)
Cast: Van Johnson (Maj. Thomas Milvaine), Esther Williams (Cynthia Glenn), Frances Gifford (Maude Bancroft), Henry Travers (Hobart Glenn), Spring Byington (Nona Glenn), Lauritz Melchior (Nils Knudsen).
The Hoodlum Saint (1946)
Terry Ellerton O'Neill, a former reporter, comes back home after serving in the army during World War I and finds that it's much more difficult to find work than he expected. Desperate, one day he crashes a wedding attended by many of the city's rich and powerful, meets a beautiful girl named Kay who turns out to be his ticket to meeting those rich and powerful people, and he soon manages to land a job on a newspaper. He gets caught up in the "make money at all costs" game, but receives a rude awakening when the stock market crashes in 1929. Kay and Terry break up, and she returns to Terry too late to save him from ruin and illness. After finding his way again and saving a church from a robbery, Terry is nursed back to health by Kay, whom he intends to marry. (Thanks to TCM)
Cast: William Powell (Terry Ellerton O'Neill), Esther Williams (Kay Lorrison), Angela Lansbury (Dusty Millard), James Gleason (Snarp), Lewis Stone (Father Nolan).
Easy to Wed (1946)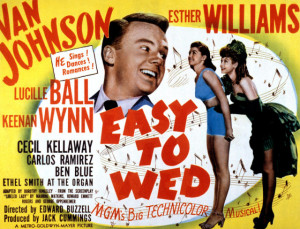 In 1936, MGM had a big hit with Libeled Lady, a screwball comedy starring Myrna Loy as an heiress who sues a newspaper for libel when it calls her a home wrecker. Spencer Tracy played the editor who hatches a scheme to compromise her, with his fiance (Jean Harlow) and a reporter (William Powell) carrying out the plot. A decade later, MGM remade the film as a Technicolor musical, Easy to Wed. This time, the stars were Esther Williams as the heiress, Van Johnson as the reporter, Keenan Wynn as the editor, and Lucille Ball as his fiance. Johnson and Esther Williams had recently co-starred with great success in Thrill of a Romance (1945). (Thanks to Margarita Landazuri, TCM)
Cast: Van Johnson (Bill Stevens Chandler), Esther Williams (Connie Allenbury), Lucille Ball (Gladys Benton), Keenan Wynn (Warren Haggerty), Cecil Kellaway (J.B. Allenbury), Ben Blue (Spike Dolan), June Lockhart (Babs Norvell).
Fiesta (1947)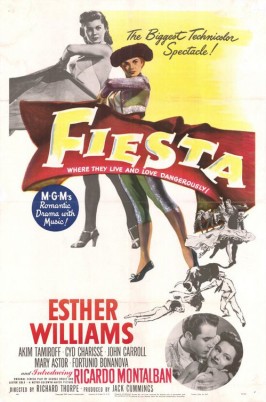 Mario and Maria are twins in a small Mexican town. When Mario is old enough to enter the bullfighting ring, his father begins a rigorous training regimen. While Mario shows only mild interest in the sport, Maria becomes a bullfighting expert and secretly takes lessons. When Mario walks out on a bullfight, Maria vows to find her brother and restore her family's good name. Hoping to lure her brother back home with a publicity stunt, Maria disguises herself as Mario and fights a bullfight under his name. Maria's plan works when Mario hears about the fight and leaves Mexico City to find her. He finds Maria just as she is being attacked by a bull. Mario saves Maria from further harm by jumping into the ring, and the public's respect for the Morales family is restored.  (Thanks to TCM)
Cast: Esther Williams (Maria Morales), Ricardo Montalban (Mario Morales), Akim Tamiroff (Chato Vasquez), John Carroll (Jose "Pepe" Ortega), Mary Astor (Senora Morales), Cyd Charisse (Conchita), Fortunio Bonanova (Antonio Morales)
This Time For Keeps (1947)
In the mid 1940s, Esther Williams was being given the full star buildup by MGM. She was first billed above the title in Fiesta (1947), and followed that film with This Time for Keeps. By that time she was one of the top ten box office stars. Williams plays Nora, the star of an aquatic show and comedian Jimmy Durante is her friend and co-worker. Nora encounters a former GI, Dick (Johnnie Johnston), whom she met during the war, and the two fall in love. He's a pop singer, but his father (played by operatic legend Lauritz Melchior) wants him to become an opera singer like himself. Nora takes Dick home to picturesque Mackinac Island, Michigan to meet the family. The plot is of little consequence in this Technicolor confection produced by master of schmaltz Joe Pasternak; it's the music, the water ballets, the comedy, and the spectacular locations that are the main attractions. (Thanks to Margarita Landazuri, TCM)
Cast: Esther Williams (Leonora 'Nora' Cambaretti), Jimmy Durante (Ferdi Farro), Lauritz Melchior (Richard Herald), Johnnie Johnston (Dick Johnson), Xavier Cugat and His Orchestra (Themselves), Dame May Whitty (Grandmother Cambaretti), Sharon McManus (Deborah Cambaretti), Dick Simmons (Gordon), Mary Stuart (Frances Allenbury), Ludwig Stossel (Peter), Dorothy Porter (Merle), Tommy Wonder (Himself).
 On An Island With You (1948)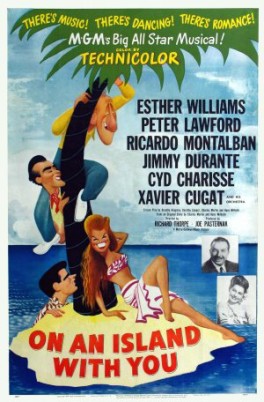 Esther Williams gets swept away by the tropical splendors of Hawaii (courtesy of the MGM back lot and locations in Florida) in the 1948 musical extravaganza On an Island with You that marked her only film opposite the studio's juvenile British heartthrob, Peter Lawford. In a plot that would never fly in more enlightened times she is typecast as a famous swimmer/movie star kidnapped to a remote island by her film's technical advisor (Lawford) when she refuses his advances. At one point he even advises her "it's about time you quit being an actress and start being a woman!" For '40s audiences, still a few decades away from the feminist revolution, there was no hint that his behavior might be considered inappropriate, offensive or even mildly deranged. Besides, the whisper-thin plot was simply a way of stringing together Williams' by then famous water ballets, musical numbers from Xavier Cugat and his Orchestra and comedy from Jimmy Durante, cast as a hapless assistant director. The film was very much in the formula of most of Williams' movies, particularly those made for producer Joe Pasternak. Williams swam, had a few laugh lines and figured in a romantic plot with one of the studio's good-looking young male stars. This was the second of two films in which Jimmy Durante provided comic relief and the third of five with musical numbers by Xavier Cugat and his Orchestra. (Thanks to Frank Miller, TCM)
Cast: Esther Williams (Rosalind Reynolds), Peter Lawford (Lt. Lawrence Y. Kingslee), Ricardo Montalban (Ricardo Montez), Jimmy Durante (Jimmy Buckley), Cyd Charisse (Yvonne Torro), Xavier Cugat and his Orchestra (Themselves), Leon Ames (Cmdr. Harrison), Marie Windsor (Jane).
Take Me Out to the Ball Game (1949)
Set at the turn of the century, Take Me Out to the Ball Game co-stars Esther Williams as the unexpected new owner of the Wolves, the baseball team for which Frank Sinatra and Gene Kelly play. After some initial resentment the guys discover that this beautiful woman knows her baseball, with first Sinatra and then Kelly falling for her. Also entangled in the plot are Betty Garrett as the gal who pines for Sinatra, and a gaggle of gangsters who have their own interest in the team. The Roger Edens/Betty Comden/Adolph Green score has Sinatra and Kelly teaming memorably on such numbers as "Yes, Indeed" and "O'Brien To Ryan To Goldberg." Jules Munshin, their cohort in On the Town, joins the latter number as the third member of the double-play infield trio. Other tunes include "The Right Girl For Me," "It's Fate, Baby, It's Fate," "Strictly U.S.A.," and the title song. (Thanks to TCM)
Cast: Frank Sinatra (Dennis Ryan), Esther Williams (K.C. Higgins), Gene Kelly (Eddie O'Brien), Betty Garrett (Shirley Delwyn), Edward Arnold (Joe Lorgan), Jules Munshin (Nat Goldberg).
Neptune's Daughter (1949)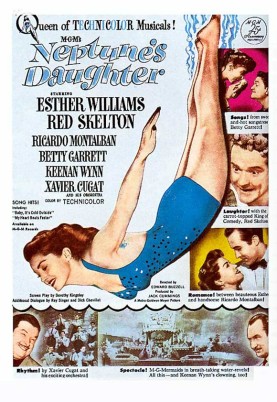 The high point of the Esther Williams swim-musical Neptune's Daughter  is her performance with Ricardo Montalban of the delightful Frank Loesser patter song "Baby It's Cold Outside." The number has Latin lover Montalban trying to entice swimsuit designer Williams into a cozy evening of lovemaking. In a comic reprise of the tune, Betty Garrett, as Williams' man-hungry sister, tries the same seductive strategy on Red Skelton, playing a zany masseur from Montalban's polo club. Neptune's Daughter was a big hit, praised by even The New York Times as "a great big beautiful musical, full of slickness and Technicolor plush, models and Xavier Cugat rhythm and Esther Williams in a water ballet." To no one's surprise, "Baby, It's Cold Outside" won Loesser the Academy Award as Best Song. The award was presented by Cole Porter, no less. (Thanks to Roger Fristoe, TCM)
Cast: Esther Williams (Eve Barrett), Red Skelton (Jack Spratt), Ricardo Montalban (Jose O'Rourke), Betty Garrett (Betty Barrett), Keenan Wynn (Joe Backett), Xavier Cugat (Himself), Ted de Corsia (Lukie Luzette), Mel Blanc (Pancho).
Duchess of Idaho (1950)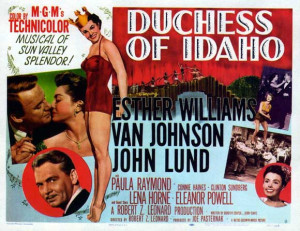 Christine Riverton Duncan, the star of the "Melody in Springtime" water ballet, shares her Chicago apartment with Ellen Hallet, a secretary to playboy railroad tycoon Douglas J. Morrissen, Jr. One evening, while dining at a nightclub, Douglas pretends that Ellen is his fiancée to scare off his date. Ellen, who is in love with Douglas, gladly plays the part, and then stays for a drink. At the end of the evening, Ellen returns home drunk and depressed, certain that Douglas does not love her. The following day, Ellen accepts an invitation to join Douglas on a business trip to Sun Valley, where complications arise when Christine falls in love with hotel bandleader Dick Layn. Soon after Douglas returns to his office, Ellen bumps her head on her desk and is briefly knocked unconscious. While attending to Ellen's injury, Douglas finally notices her beautiful eyes and invites her to dine with him. Christine eventually resumes her romance with Dick when Douglas tells her that he is in love with Ellen. Meanwhile, Ellen, believing that Christine has stolen her man, goes to Sun Valley to straighten matters out. Following a series of misadventures in Sun Valley, the two women lose their men and return to Chicago. A short time later, Dick and Douglas pay an unexpected visit to Ellen and Christine at their apartment, hoping to reconcile with their sweethearts. Ellen immediately rushes into Douglas' arms, and after Christine explains the ruse to Dick, he takes her back with open arms. (Thanks to TCM)
Cast: Esther Williams (Christine Riverton Duncan), Van Johnson (Dick Layn), John Lund (Douglas J. Morrissen, Jr.), Paula Raymond (Ellen Hallett), Clinton Sundberg (Matson), Connie Haines (Peggy Elliot), Mel Torme (Cyril), Amanda Blake (Linda Kinston)
Pagan Love Song (1950)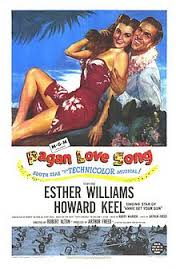 Mimi Bennett, who is half-Tahitian and half-American, lives with her wealthy aunt in one of the most elegant villas on the island of Tahiti. Despite her comfortable life, Mimi wants to give up her tropical surroundings for a new life in America. One day, while joining some of the natives as they give their traditional customary greeting to arriving ships, Mimi catches the attention of Hazard Endicott, an American schoolteacher from Ohio, who has inherited his uncle's island plantation. Hazard mistakes Mimi for one of the non-English-speaking natives, and instead of correcting Hazard, Mimi makes a joke of the misunderstanding and pretends to know only a limited amount of English. When Hazard tries to hire Mimi as his personal maid, Mimi uses broken English to tell him that she is already working in a large house. Hazard arrives at his new home a short time later, and is greatly disappointed to discover that the "estate" he inherited is a small, dilapidated shack in need of repairs and a bathtub. After a series of misunderstandings, Mimi and Hazard fall in love and look forward to a happy future together on Tahiti. (Thanks to TCM)
Cast: Esther Williams (Mimi Bennett), Howard Keel (Hazard Endicott), Minna Gombell (Kate Bennett), Rita Moreno (Teuru), Philip Costa (Manu)
Texas Carnival (1951)
A dunk tank at a Texas carnival is operated by Debbie Telford and partner Cornie Quinell. An honest man, Cornie helps the inebriated Dan Sabinas, a millionaire rancher, who is being taken advantage of at another carny booth.  A grateful Dan is put in a taxi, with Cornie promising to return his car. Dan drunkenly has the cab take him to Mexico instead.  Cornie and Debbie end up mistaken for Dan and wealthy sister Marilla. In time, Cornie comes to enjoy the lap of luxury and is attracted to lovely Sunshine Jackson, whose dad is the sheriff. Debbie is courted by Dan's handsome foreman, Slim Shelby, who pretends not to know she's an impostor.  In a poker game, Cornie is unaware that jellybeans being used for chips are worth big money. He loses $17,000 that he can't repay unless he can win a Texas chuck-wagon race. Debbie's in hot water, too, because the real Marilla is suspicious of her.  Dan finally returns but can't recall who Cornie is. In an attempt to get Dan drunk again, Cornie gets tipsy instead and needs to drive his chuck wagon that way. But all ends well when he and Debbie end up with their new loves. (Thanks to TCM)
Cast: Esther Williams (Debbie Telford), Red Skelton (Cornie Quinell), Howard Keel (Slim Shelby), Ann Miller (Sunshine Jackson), Paula Raymond (Marilla Sabinas), Keenan Wynn (Dan Sabinas), Tom Tully (Sheriff Jackson)
Skirts Ahoy (1952)
In 1952, Esther Williams showed her true colors in Skirts Ahoy!, and they were red, white and blue. The star of MGM's unique series of aqua musicals top-lined this Technicolor recruiting poster for the U.S. Navy at the military's request, as MGM sought to counter stories of Hollywood blacklisting with this unimpeachably patriotic picture. Williams only had one problem with the script: It didn't have enough swimming sequences. At her request, a scene in which she performed calisthenics on an athletic field was moved to a swimming pool where she helps her friends learn to swim. That created another problem, however, when she got a look at Naval regulation swimming suits. The drab suits were far from flattering dry and looked worse wet. In particular, they offered no support for an adult woman, flattening even the most impressive breasts. Williams knew Secretary of the Navy Dan Kimball and arranged to meet him during a publicity junket to Washington. In his office she modeled the official suit, then tried on a suit she had had specially built by Cole of California, the company that made and distributed the Esther Williams swimsuit line. He quickly agreed to make the new model the official swimsuit of the U.S. Navy. Then she got him to place an order for 50,000 of them. (Thanks to Frank Miller, TCM)
Cast: Esther Williams (Whitney Young), Joan Evans (Mary Kate Yarbrough), Vivian Blaine (Una Yancy), Barry Sullivan (Lt. Comdr. Paul Elcott), Keefe Brasselle (Dick Hallson), Billy Eckstine (Himself), Margalo Gillmore (Lt. Comdr. Staunton), The DeMarco Sisters (The Williams Sisters), Jeff Donnell (Lt. Giff), Thurston Hall (Thatcher Kinston), Roy Roberts (Capt. Graymont), Hayden Rorke (Doctor), Debbie Reynolds (Herself), Bobby Van (Himself), Whit Bissell (Mr. Yarbrough), Madge Blake (Mrs. Vance), Mae Clarke (Miss LaValle), Byron Foulger (Tearoom Manager), Juanita Moore (Black Cadet), Henny Backus (Nurse).
Million Dollar Mermaid (1952)
Esther Williams secured her status as "America's Swimming Sweetheart" with Million Dollar Mermaid, a story loosely based on the real-life Australian swimmer Annette Kellerman. The movie, full of romance, music, and dazzling underwater spectacles, remains one of the definitive films of Williams' career.  The movie traces Kellerman (Williams) from her beginnings in Australia to a move to London with her father (Walter Pidgeon) and finally to swimming sensation in turn-of-the-century America. Along the way she meets talent manager James Sullivan, played by Victor Mature, who convinces her to wear a shocking — for the time period — one-piece bathing suit as she makes a long-distance publicity swim in Boston. Aquatic fame at New York's Hippodrome Theater and in the movies follow, along with a romance with Sullivan. But misunderstandings force the couple to part, only to be reconciled after an accident at the end.  (Thanks to Amy Cox, TCM)
Cast: Esther Williams (Annette Kellerman), Victor Mature (James Sullivan), Walter Pidgeon (Frederick Kellerman), David Brian (Alfred Harper), Donna Corcoran (young Annette Kellerman), Jesse White (Doc Cronnol).
Easy to Love (1953)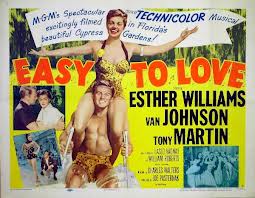 Shot on location at Florida's beautiful Cypress Gardens, Easy to Love stars MGM's resident bathing beauty Esther Williams as Julie, an overworked aquatic performer who is in love with her oblivious boss Ray (Van Johnson). When Ray takes Julie on a business trip to New York, however, she meets handsome singer Barry Gordon (Tony Martin) who sweeps her off her feet. As Julie struggles to decide between the two men, she swims, dives and water skis in some of the best Busby Berkeley-designed water stunts ever put on film. Esther Williams was at the top of her career when she made Easy to Love. Audiences loved her and flocked to her films, despite the fact that one plot was virtually indistinguishable from the next. Comedy, romance and swimming, of course, were all that fans wanted from an Esther Williams movie, and Williams was happy to oblige. (Thanks to Andrea Passafiume, TCM)
Cast: Esther Williams (Julie Hallerton), Van Johnson (Ray Lloyd), Tony Martin (Barry Gordon), John Bromfield (Hank), Edna Skinner (Nancy Parmel), King Donovan (Ben), Paul Bryar (Mr. Barnes), Carroll Baker (Clarice), Ed Oliver (Bandleader).
Dangerous When Wet (1953)
Made at the peak of Esther Williams' success, Dangerous When Wet certified the star's reputation as "America's Swimming Sweetheart" and box office gold. The aqua-musical again plunges the actress into a watery wonderland with "a light mixture of tunes, comedy, water ballet and Esther Williams in a bathing suit," as the Variety review so aptly described it.  Williams plays Katie Higgins, a member of an Arkansas farm family determined to swim the English Channel in order to win money for a prize bull. Mom is played by high-kicking actress Charlotte Greenwood, best known as Aunt Eller in Oklahoma!, (1955) and dad is William Demarest, later famous as the second Uncle Charlie on TV's My Three Sons. Jack Carson plays the hustling liquid vitamin promoter and movie buffs can spot future 007 Roger Moore in a small part as a reporter. The role of Katie's teenage sister, played by Barbara Whiting, was originally slated for Debbie Reynolds. Rounding out the cast is debonair Fernando Lamas in his first and only movie with Williams, playing a champagne mogul who woos Katie while she is in training. Lamas, an infamous Hollywood ladies' man, and Williams were both involved with others at the time of the movie, but would later marry in real life. Initially reluctant to join the movie because it wasn't a true drama, Lamas finally agreed to the part after being convinced by Williams. She recalls in her autobiography, The Million Dollar Mermaid, that he said, "I don't want to play Nelson Eddy to your Jeanette MacDonald in a swimming pool."  (Thanks to Amy Cox, TCM)
Cast: Esther Williams (Katie Higgins), Fernando Lamas (Andre Lanet), Jack Carson (Windy Weebe), Charlotte Greenwood (Ma Higgins), Denise Darcel (Gigi Mignon), William Demarest (Pa Higgins).
Jupiter's Darling (1955)
Based on Robert Sherwood's 1927 anti-war comedy play Road to Rome, Jupiter's Darling was a strange idea for a musical, especially one starring swimming star Esther Williams. The story revolves around Hannibal's march on Rome in 216 AD with Howard Keel playing Hannibal and Williams playing his love interest, a woman named Amytis who is also engaged to the Roman emperor Fabius Maximus (George Sanders). MGM knew exactly what they were making and had the moxie to state it at the beginning of the film: "The history which describes Hannibal's attack on Rome is very confusing; this story will do nothing to clear it up." The film had nothing to do with history, as the real Hannibal not only never attacked Rome; he never came anywhere near it.  Nor did Hannibal learn to swim from Esther Williams's Amytis, but as nearly all of Williams' films required scenes of her impressive, balletic swimming, they had to work it in somehow. As she wrote in her autobiography, "Jupiter's Darling, I suspected, was not a problem in a vacuum. The Esther Williams swimming musicals had probably had their run. A great run, but all things have to come to an end. Broadway was already, or soon would be, turning out shows that would become the next generation of Hollywood musicals, My Fair Lady, The King and I, West Side Story, The Sound of Music, Funny Girl – and there was no place in such properties for a mermaid."  (Thanks to Lorraine LoBianco, TCM)
Cast: Esther Williams (Amytis), Howard Keel (Hannibal), Marge Champion (Meta), Gower Champion (Varius), George Sanders (Fabius Maximus), Richard Haydn (Horatio), William Demarest (Mago), Norma Varden (Fabia), Douglass Dumbrille (Scipio), Henry Corden (Carthalo).
The Unguarded Moment (1956)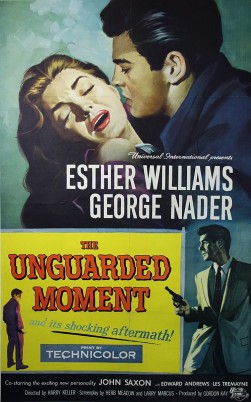 When high school music teacher Lois Conway begins receiving secret notes from an anonymous admirer, the tone of the missives quickly escalates from flirtation to veiled threats. Convinced that the author of the mash notes is one of her students, Lois decides to confront her stalker when he suggests a rendezvous at night in the school's deserted gym. She realizes her mistake when she is attacked in the locker room and barely escapes only to be apprehended by the police who spot her fleeing from the scene. During questioning with Lt. Harry Graham, Lois learns that a rapist/murderer is on the prowl and her fears begin to mount. Yet the threatening notes continue and the sender's behavior becomes more brazen – he even breaks into her house to leave his message. Lois soon becomes convinced the suspect is Leonard Bennett, the high school football star, and enlists the aid of Lt. Graham, but is Leonard the real culprit or someone more elusive and cunning? (Thanks to Jeff Stafford, TCM)
Cast: Esther Williams (Lois Conway), George Nader (Lieutenant Harry Graham), John Saxon (Leonard Bennett), Edward Andrews (Mr. Bennett), Les Tremayne (Mr. Pendleton), Jack Albertson (Prof), Dani Crayne (Josie Warren), John Wilder (Sandy), Edward C. Platt (Attorney Briggs), Eleanor Audley (Mr. Pendleton's Secretary)
Raw Wind in Eden (1958)
On a small Mediterranean island live Costanza, her father Urbano, and beachcomber Moore, whom she plans to marry. Into this Eden come two plane crash survivors, supermodel Laura and her playboy friend Wally. The shapely, worldly Laura becomes a bad influence, especially when triangles start to develop. But beyond this, little mysteries lead Laura and Wally to wonder what's going on and who Moore really is.
Cast: Esther Williams (Laura), Jeff Chandler (Mark Moore/Scott Moorehouse), Rossana Podesta (Costanza Varno), Carlos Thompson (Wally Drucker), Rik Battaglia (Gavino), Eduardo De Filippo (Urbano Varno)
The  Big Show (1961)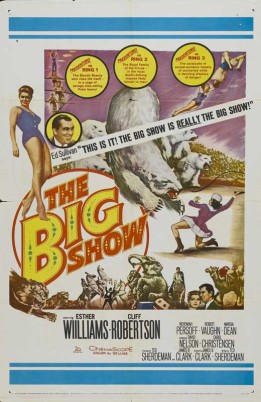 Bruno Everard, the mercenary, power-mad owner of a traveling German circus, exploits everyone, including his family of four sons and a daughter, all of whom are trained performers. His oldest son, Klaus, who has always resented his father's obvious preference for the younger and more talented Josef, tries to endear himself to Bruno by marrying Teresa Vizzini, the daughter of a menagerie owner with whom Bruno has long wished to merge. In so doing Klaus infuriates young Carlotta Martinez, an aerialist whom he had promised to marry. Meanwhile, Josef has fallen in love with a wealthy American, Hillary Allen, but when she asks him to abandon the circus and return to the United States as her business manager, Josef breaks off the romance. At the same time, Bruno's daughter, Garda, defies her father by marrying an American soldier, Eric Solden. Eventually Teresa realizes that Klaus married her only to gain control of her father's menagerie. Overcome by despair, she commits suicide by allowing herself to be mauled in a polar bear act. Shortly thereafter, Carlotta is seriously injured in a high wire accident. When she charges Bruno with negligence, Josef assumes full responsibility for the faulty equipment and is sentenced to a prison term. While he is away the other children renounce their father and take the circus away from him. The old man tries to make a comeback but suffers a fatal heart attack while performing on an outdoor trapeze. When Josef is released from prison, he turns on his brothers, blaming them for their father's death. Klaus tries to knife Josef but is himself killed by the same polar bear that took Teresa's life. The tragedy has a sobering effect upon the remaining members of the family, and they decide to reorganize the family circus. At last, Hillary agrees to marry Josef on his terms. (Thanks to TCM)
Cast: Esther Williams (Hillary Allen), Cliff Robertson (Josef Everard), Nehemiah Persoff (Bruno Everard) Robert Vaughn (Klaus Everard), Margia Dean (Carlotta Martinex), David Nelson (Eric Solden), Carol Christensen (Garda Everard), Kurt Pecher 9 Hans Everard), Renata Mannhardt (Teresa Vizzini)
That's Entertainment (1974)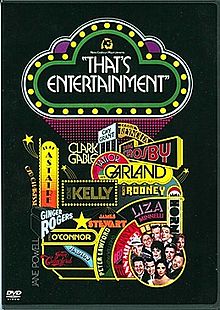 It's ironic that MGM, in such dire financial straits in 1974 that it was selling its fabled back lot and auctioning off artifacts from past movie triumphs, enjoyed one of its biggest box-office hits with That's Entertainment, a compilation of musical highlights from the studio's golden days. Onscreen hosts Fred Astaire,Bing Crosby, Gene Kelly, Peter Lawford, Liza Minnelli, Donald O'Connor, Debbie Reynolds, Mickey Rooney, James Stewart, and Elizabeth Taylor introduce the various film clips while standing on what was left of the MGM lot (Rooney delivers his comments from the Andy Hardy street). The vignettes, in both color and black-and-white, include generous slices of such classic MGM songfests as The Wizard of Oz, Meet Me in St. Louis, An American in Paris, Singin' in the Rain, and Gigi.  Donald O'Connor stands by the empty Esther Williams pool and introduces a thrilling montage of the best of her swimming numbers. Assembled by Jack Haley Jr., That's Entertainment proved such a hit that the 1976 sequel,That's Entertainment II, was a foregone conclusion. (Hal Erickson, Rovi)